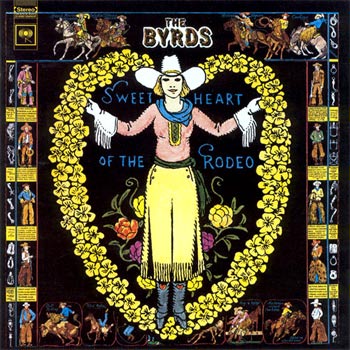 Whenever the The Byrds were mentioned I never went far beyond Mr Tambourine Man or Turn Turn Turn, in fact I didn't know much about their material beyond the mid 1960's period. I was interested in Sweetheart of the Rodeo because of it's reputation as being one of the first country rock records, well it was actually rock/pop group recording a country music record, and maybe that is why its sound is so refreshing. Whilst there is nothing drastic in their interpretation of the songs, the sound is more laid back, there is a looseness to their performance which you probably didn't find in the music that generally came out of the studios in Nashville.
The album came at a time of internal upheaval in the band, original members David Crosby and drummer Michael Clarke had departed, one of the replacements was guitarist and vocalist Gram Parsons who had previously played in the International Submarine Band who also had country leanings. Not that Parsons necessarily dictated the the tone of the album nonetheless his knowledge of country music as well as blues was an indelible influence on the group.
There is a great mixture of material on the album, a terrific cover of the Louvin Brothers The Christian Life sung by Parsons with some great harmonies from Roger McGuinn and Chris Hillman. Parsons was also responsible for the inclusion of a cover of William Bell's soul classic You Don't Miss Your Water which even though adapted to a country setting it loses none of soul. There are two Bob Dylan covers, You Ain't Going Nowhere and Nothing Was Delivered which came from the famous Basement Tapes sessions with the Band, which could be described as a pre-cursor to the country rock sound. Parsons covers the lead vocals on Merle Haggards Life in Prison and his own composition Hickory Wind which once again shows Parsons ability to infuse his country sound with gospel emotion.