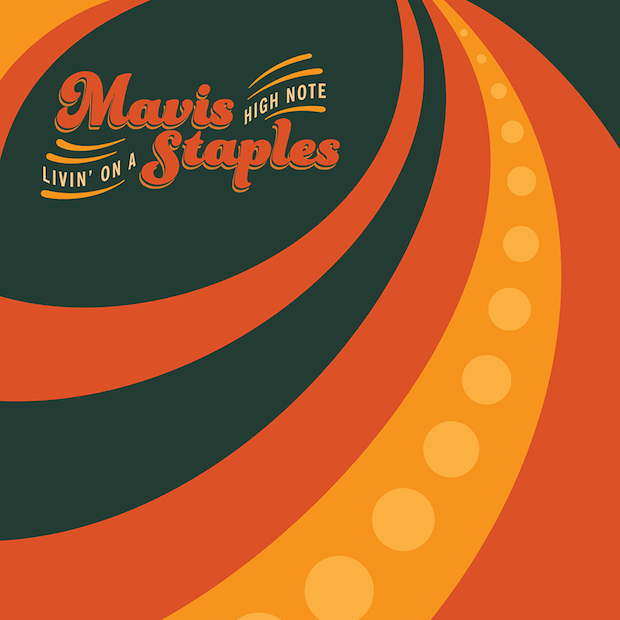 Mavis Staples has built an impressive solo catalogue working with the likes of Prince, Wilco's Jeff Tweedy and now M Ward. Each album has a distinct narrative one cloaked in positivity and the bedrock of gospel that has been her foundation for more than 50 years. Each album especially those with Tweedy focused on giving her vocals plenty of room against a sparse backdrop. M Ward has the same sympathetic nature to her voice but fleshes things out from a music standpoint. Ward has enlisted a stellar cast of songwriters to help Mavis achieve her vision, the likes of Nick Cave, Bon Iver, Benjamin Booker and Neko Case penned tunes specifically for this album
Living on a High Note is part nostalgia trip from her heady days with the Staple Singers and part commentary on the decaying fabric of American society. She is at her commanding best on Action, defiant and spirited in taking matters into her own hands.

Sick and tired of feeling sick and tired
They say my words might get me fired
What a terrifying time to raise our voices
But see I'm not left with many more choices
I gotta put it into action
Doing it A-Z

Take Us Back penned by Benjamin Booker reflects on where Mavis came from and what there is still to achieve. It's about taking stock of the people who are important, it's also about the city of Chicago her home and heartbeat. With a lean penetrating rhythm and a solid floating groove Mavis takes us back to the windy city of Chicago,
Sometimes life can get you in a hurry
I'm just gonna take it slow now
That don't mean I ain't been working y'all
I'm working on me
I'm taking sometime to see the people who keep me going
Sometimes folks can lead you down a bad line
I'm not saying that I'm not judging now
I'm just gonna tell ya what I tell them now.
The gospel infused Love and Trust features some great harmonies, it's a lean and sparse track with Mavis offering some pearls of wisdom but how to find love and trust amidst the chaos and debris. On If It's a Light Mavis' voice is placed front and centre her ability deliver a song with nuance and restraint is amazing. This breezy tune sounds like Chicago soul in it's heyday, mid 1960's with Curtis Mayfield and The Impressions as the city's soul ambassadors. History, Now asks the question what do we do with our collective past and have we learnt any lessons. The highlight of the album is the Nick Cave penned Jesus Lay Down Beside Me, Mavis is in familiar territory with an evocative vocal delivery. M ward shows deft restraint his guitar work channels the unobtrusive style of Pops Staples.
Livin' On A High Note leaves you with a sense of comfort after listening to it, Mavis shares with you a sense of optimism and hope. Mavis has seen it all, the decaying of community and family, the discrimination, the violence and above all the path to acceptance.