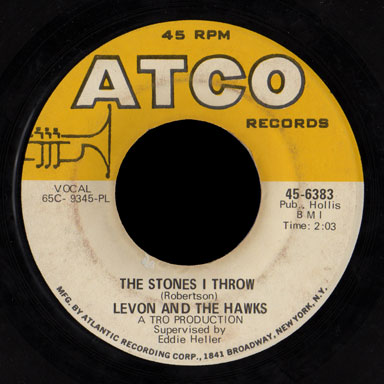 In early 1965 Levon and the Hawks under the nom de disque the Canadian Squires released the single Uh Uh Uh b/w Leave Me Alone on the Ware label, the single produced by veteran producer Henry Glover failed to make any headway for the band. Despondent at the idea of continuing to be regarded only as a great club act the Hawks continued to search for that right balance between their R&B roots and more commercial material. Already developing as their prime outlet of material Robbie Robertson was continuing to absorb different kinds of music, his earlier tendencies leading towards gritty R&B and blues, Robertson was now soaking up the gospel influenced sounds of The Staple Singers. Robbie was paying special attention to the vocal stylings of the group and how their voices melded so easily together. With this feeling in my mind Robbie penned The Stones That I Throw almost as a tribute to the Staples.
The song relies heavily on the organ of Garth Hudson and he rises to the occasion creating an atmosphere in which you feel like you are listening to the organist in an Anglican church. Robbie provides a solid rhythm base with Richard on piano, Richard sings of passing beyond obstruction, holding his brothers hand (in reference to the civil rights movement) the protagonist will not be scared from doing what is right by barking dogs and those in authority who wish to stop him. His fellow man will no which way to go because he will be shown by the stones that I throw. The final verse finishes with a great flourish from Garth who builds an ominous crescendo. The B side He Don't Love You (And he will break your Heart) was more in line with their R&B style but with more of a focus on vocal harmonics that in earlier work. It seems Robbie was keen to see how the three vocalists could interact and where each voice would sit.
The Stones That I Throw reached #22 on the CHUM chart in Canada but failed to chart in the U.S, in Australia the song was covered By Normie Rowe who took it to the top of the Australian charts, his version lacks the bite and musicality of the original. By the time the song was issued the Hawks had accepted and invitation to back Bob Dylan on his world tour, another step in the path towards The Band.