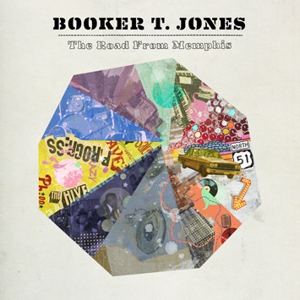 The creative flame is one that is difficult to extinguish, the creative spirit is one that has a relentless drive and is demanding in it's desire for release. This year has seen the release of some great albums from those artists whom many may have thought would have seen their creative output in decline, not so as the new Booker T Jones album demonstrates. Great music can come out of reflection and a look over the shoulder at the past, we have seen it from Robbie Robertson, Paul Simon and Steve Cropper in albums they have released this year.
Booker T Jones' The Road To Memphis is a nostalgic trip back to the heady days of southern soul music which had it's genesis in Memphis as well as further south in Muscle Shoals. There is nothing self indulgent about this record and neither does Booker T look to play it safe, he looks to extend beyond his original sound with Booker T and the MG's. Booker surrounds himself with the right musicians to develop a soundscape that is rich in funk, layered keyboard textures, and a gritty rhythm base. Ahmir Thompson (?uestlove) from The Roots produces the album and also plays drums, also featured in the backing ensemble are his fellow bandmates Captain Kirk and Owen Biddle. A great addition is guitarist Dennis Coffey former session guitarist at Motown back in the late 60's and early 70's.
The album kicks off with the easy groove of Walking Papers, reminiscent of some of the later releases from Booker T & The MG's, that tight groove with the funky middle eight. Some of the instrumental tracks feel like they take off where the MG's 1971 hit Melting Pot left off. Booker just instinctively knows how to build a song with his keyboard playing, starting with those lean lines and then building layer upon layer and taking the song to exalted heights. Similar to the approach of the MG's in the late 60's Booker T delves into the modern songbook for an excursion through Gnarls Barkley's Crazy, his version still maintains the urgency of the original whilst stretching the song out in a jazz setting. There is a Soul Limbo type percussion pattern in the bridge which shows the band aren't coasting, that there is room for improvisation and colour. Progress is relaxed and laid back, drifting back to the soul sounds of the late 60's with a theme of hope and optimism that we are making progress in tough times. Featuring a great vocal from Jim James from My Morning Jacket it's a welcome contrast on the album. The Hive is just pure ecstatic funk and the best thing on this album, ?uestlove lays down a beat that is infectious and rock solid, Booker is once again at his best with long soulful runs, and that joyous melodic crescendo that is his trademark.
On Down in Memphis Booker steps behind the microphone, reminiscing about his youth singing about the blues clubs down on Beale Street, travelling in a Thunderbird to see his girl, living on a country road with no street lights, reflection provides such fertile ground for music and it gives us who listen a taste of what it was like coming up in tough cities like Memphis, trying to make your way in music. This theme is continued on Representing Memphis, a song written by his daughter Liv and featuring a duet with Sharon Jones and Matt Berninger from The National. Everything is Everything and The Vamp return to the MG's style with some funky percussive breaks and that in the groove style rhythm guitar that adds another layer to the songs, in a similar Steve Cropper style nothing obtrusive just melodic and understated. The album concludes with The Bronx with Lou Reed handling the vocals, there are many who don't care for is almost acerbic vocal style but it fits the gritty funky nature of the album and is a good way to sign off. The Road To Memphis is one of the those albums where you appreciate the fact that good music is still being made with respect to craftsmanship over commercialism and with a deep and abiding respect towards the creative flame.