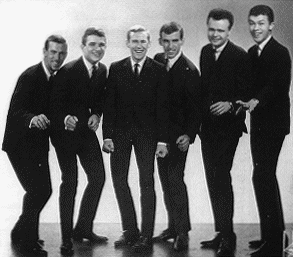 It's hard to put in words what I felt when I first heard this on a vinyl LP when I was about 17, I hadn't heard anything like it before, especially the guitar playing which was almost Hendrix like in it's sound. I'm talking about Who Do You Love which was recorded by Ronnie Hawkins and the Hawks in 1963 and featured a band that would later become famous as The Band. Ronnie Hawkins who hailed from Fayetteville Arkansas was a rockabilly artists who at that point had been recording with Roulette Records since around 1958, he released a number of singles including Forty Days which reached #45 on the billboard charts in 1959, he followed it up with Mary Lou which reached #26. He was particularly popular in Canada and with a constant demand present he shifted his base there around 1960. With most of his band being from Arkansas most got homesick and returned home, so Hawkins began to recruit local musicians who formed the core unit of his band for the next 3 years. This band included drummer Levon Helm who came up with Hawkins from Arkansas, guitarist Robbie Robertson, bass player Rick Danko, organist Garth Hudson and pianist Richard Manuel. This is the lineup that plays on the record although Hudson is not present.
What is so amazing about this record is that there was nothing else to compare it to at the time, it was such a unique record. It's dark and dirty like a great blues record should be, but it has a drive and pulse that wasn't found in other blues or R&B records at the time. The rhythm section is incredibly tight, Levon locks into that rhythm and punches out the sound, the great Roy Buchanan played bass on the track and he fits beautifully between the lead guitar of Robbie Robertson and the rhythm playing of Rick Danko, the bass is pulsating and during the verses Buchanan lays down a funky rhythmic pattern. That rhythm is underpinned beautifully by Richard Manuel who had been drafted into the Hawks to play that role. In the chorus he plays triplet style breaks that mesh perfectly with the lead guitar.
Without a doubt the most exciting aspect of the song is the lead guitar of Robertson, whilst my knowledge of music continues to expand I've yet to hear a solo from that particular era that matches Robertson for sheer intensity and power. Robertson fires off staccato bursts of screaming and wailing from his stratocaster that add to the darkness of the record, I've read before that many considered the solo and the record itself to be five years or so ahead of it's time and I would agree with this. Robertson was a huge fan of guitarist Hubert Sumlin who was a member of Howlin Wolfs band, and you can hear some of his influence in Robertsons' style. What is also amazing is that this is one of the finest sounding R&B records I have heard and it was recorded by an all white group featuring mostly Canadian musicians, whose playing was steeped in the blues.