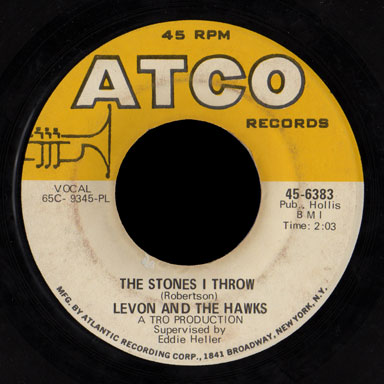 I posted this week on a record by Ronnie Hawkins and The Hawks called Who Do You Love which featured a backing from a group of musicians who would later find fame as The Band. The group featured the searing lead guitar of Robbie Robertson, the funky, solid bass playing of Rick Danko, the masterful organ of Garth Hudson, the soulful Richard Manuel on piano and the tight, free flowing style of Levon Helm on drums. Not long after this group cut the amazing Who Do You Love they ventured out on their own as Levon and The Hawks, they were also for a short period called The Canadian Squires.
Having recorded with Hawkins at Bell Sound studios in New York the Hawks had an influential admirer in producer Henry Glover who helped to land them one of single deals with ATCO records which was a subsidiary of Atlantic. The group had released a handful of single from late 1964 into early 1965. One of these singles The Stones That I Throw was released around the middle of 1965 just as the Hawks were heading out on the road with Bob Dylan and a road that would eventually lead them to glory as The Band.
The Stones That I Throw showed a band that was starting to put the music and songwriting elements together that would make them such an era defining band. The song which is an ode to civil rights harmony was strongly inspired by the work of The Staple Singers, musically it has a strong gospel influence highlighted by the fantastic organ work by Garth Hudson, you can hear this in the final chorus where he unleashes a stirring gospel solo. Robbie Roberston is restrained preferring to play a rhythm only part, once again the rhythm is underpinned by the piano work of Richard Manuel and the tight bass playing of Rick Danko. Richard Manuel in my opinion was one of the most soulful vocalists I have heard, his ability to convey pure emotion without vocal histrionics was part of the success of The Band, when his voice began to fade so did the heart and soul of the band. What I like about Levons drumming is the sound of his snare drum on those early records, that tight snap locked snare sound that you can also hear Ringo Starr playing on Rubber Soul and Revolver. Very jazzy sound, on this particular record there aren't a lot of fills but if you here some of Levons playing on those pre Band records there are a lot of those quick rolls across the toms and that crashing symbol to end the song. Later on Levon simplified his sound, the snare sound was a lot looser and more elastic, which gave it the ability to linger and float over the song but it did not reduce the tightness of the rhythm section.