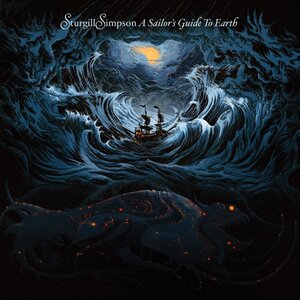 A Sailor's Guide To Earth is the brilliant third studio album from Sturgill Simpson - an artist who deftly defies musical category. Where his previous album Metamodern Sounds in Country and Western gave Nashville a psychedelic twist, his new album explores the musical territory beyond the confines of Nashville or country music in general. This is a work with a purpose. Constructed as a concept album A Sailor's Guide To Earth sets out a framework of life lessons for Simpson's young son. Simpson was partly inspired by the work of Marvin Gaye, especially his masterpiece What's Going On, a song cycle that ruminated on the Vietnam War, poverty and racism. It's a brilliant collection of songs. Simpson is in a wistful, reflective mood. His bond with his son and his desires for his future are palpable. Concept albums are difficult, trying to create a cohesive message both lyrically and musically is a challenge, but it's one that Simpson meets with honesty and an impeccable musical vision. Not one to play it safe Simpson continues to push himself as an artist, and the fruits of that are on display.
The opening track Welcome To Earth (Pollywog) is a perfect sucker punch for the curious listener, with its prog adornment you might be thinking you are at the start of an epic ride. You are but the ride doesn't turn out exactly like you thought. As it reaches a mid point crescendo suddenly you are transported to the swamps of Muscle Shoals with soulful horns and Simpson sounding like a southern soul shouter. Breakers Roar is a lament on the life of a professional musician, "how easy it is to drown in a dream" that becomes reality and then offers up conflicting priorities. Becoming a father has had a profound impact on Simpson and caused him to question the decisions and paths he has taken.
The wry Keep It Between The Lines is a sublime slice of country funk with some blasting horns courtesy of the crew at Daptone in New York. Here Simpson provides some guidance for his son during his formative years declaring "keep your head out the clouds, and remember to be kind, and just stay in school, stay off the drugs and keep between the lines". Sea Stories provides a back story for Simpsons' young son detailing his time serving in the United States Navy. Musically it shares a connection with Metamodern sounds with its strident country rock sound. Taking risks is ingrained so taking on Nirvana's In Bloom seems in keeping with that method. Stripping the song away to its bare elements gives it added effect, and slowly Simpson builds an aching soulful melody for a song that had an enormous impact on him during his early teens.
Brace For Impact is a daring mix of country and prog rock with an insistent pounding synth line an incongruous mix that just works. Along those dark musical edges Simpson has another message to his son, make to give a little and make to live a little. All Around You is another Muscle Shoals throwback, Simpson telling his young protégé "there will be days when the sun won't shine. When it seems like the whole world is against you. Don't be afraid, life in unkind, you can let go of the pain if you choose to". The album closes with the barnstorming Call To Arms and Simpson tells it like it is. The ills of the world are laid open bare. Effortlessly mixing his spaced out country rock with elements of soul and funk this is an amazing end to the record. In a similar vein to What's Goin On the album ends on a note of brutal honesty about the state of the world. Already this album is generating a buzz you rarely see for an artist who is only just beginning to emerge from the shadows.