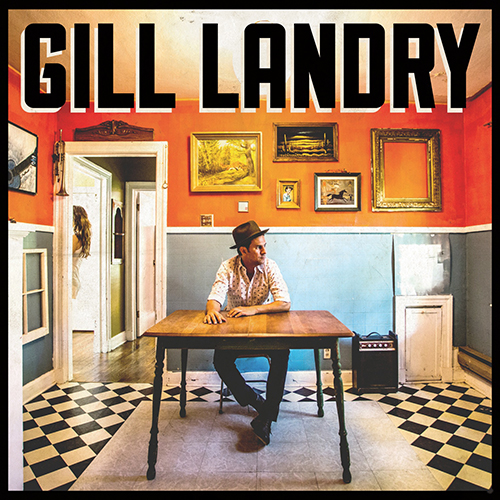 In March Gill Landry released his third solo album, known as a mainstay of Old Crow Medicine Show this self titled set surprises. Whilst not deeply rooted in the old time Americana that Old Crow have become famous for Landry has crafted an exquisite set of songs, honest and elaborate with an imbued melancholy Landry explores the often rough and barren landscape of love. It's a concise album Landry doesn't waste words allowing space for interesting musical alignments.
The delicate Funeral In My Heart features an intricate guitar pattern Landry sets the tone with a song expressing loss and regret.
There's a funeral in my heart
Everyone is dressed in black
With chrysanthemums and voodoo dolls trying to bring you back
As the lonesome hearse rolls slowly to the graveyard of my mind
Just Like You has a similar stripped back framework, a haunting harmonica matches the haunted protagonist. A life that once held purpose and happiness is replaced by one that is intransigent and listless, a sense of resigned ambivalence starts to set in.
Broken down. hung up and wasted in a heartless town
Thinking of old loves and wedding gowns
Passing time.
It's so hard trying to find a golden spark
When the world is cold and dark in my mind
Waiting For Love for the first time displays an influence of Old Crow, the melancholy strains of the fiddle reminiscent of Ketch Secor at his most wistful and plaintive. Take This Body is a highlight a beautiful duet with Laura Marling, his own vocal performance also stands out, sounding weary and defeated. Fennario takes a leaf out of the Calexico songbook with that dark, twisted south of the border sound, it's a reminiscence of glory days well past, a town of where the revelry lasted deep into the nights. Lost Love has a horn refrain that the Memphis Horns would have been proud of, it turns it into a song where Memphis and Nashville meet somewhere in the middle on a dusty highway.
It often happens that the quiet member of the band who doesn't get any notice often has a talent that is completely overlooked. It's quite possible that this could be the case with Landry who has crafted an immensely enjoyable album where each song is unique and stands on it's own. His songwriting shows maturity and depth there is no fall into maudlin self pity each song has a grittiness and world weary despair that adds to the beauty of this album.