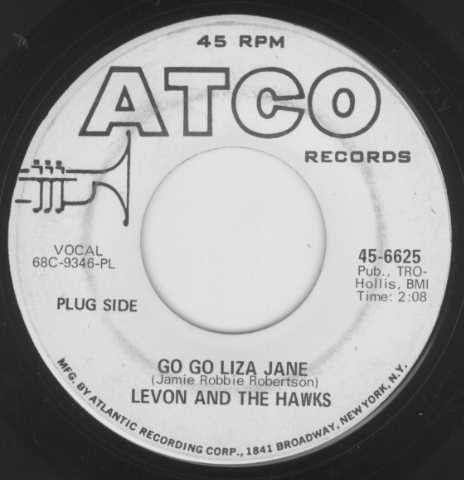 Came across this little chestnut on Youtube, it's The Band then still working as Levon and The Hawks doing a live version of Go Go Liza Jane at the Onyx club in Oklahoma City. The date of the gig appears to be incorrect, it's dated Feb 1966 but was more likely the year previous. Liza Jane was recorded at the same session as Stones That I Throw b/w He Don't Love You, the sessions took place in New York in the Spring of 1965 and were produced by revered R&B producer Henry Glover with Phil Ramone engineering. Glover had been encouraging the group to write more commercial material and move away from their strict R&B roots.
The traditional Liza Jane had become a staple of their live act and when another song was required for the session that was the song chosen. Listening to it live you can hear the musical progression that the band were taking, they were incredibly tight the jazz influence is noticeable, as it was on other songs they were playing at the time such Cannonball Adderley's The Work Song. After the introduction from Levon Rick sets to work with a very heavy handed bass part that just flows like a river through the whole song. Levon plays a very tight rhythm, very jazz styled, that would change in years to come to the more jagged syncopated bayou drumming that he pioneered.
Richard, Rick and Levon trade verses with gusto whilst in the background Garth makes you feel like you are at a church revival on the banks of the Mississippi. The most incongruous aspect of the recording is the verse sung by Robbie who sounds like a growling version of Dr John, it doesn't work Robbie was a master guitarist but he just didn't have the throat. Within 6 months the hawks would be playing alongside Bob Dylan at Carnegie Hall. In another strange occurrence, purely for commercial purposes the Atlantic subsidiary Atco released Liza Jane as a single in 1968, it didn't make the charts.