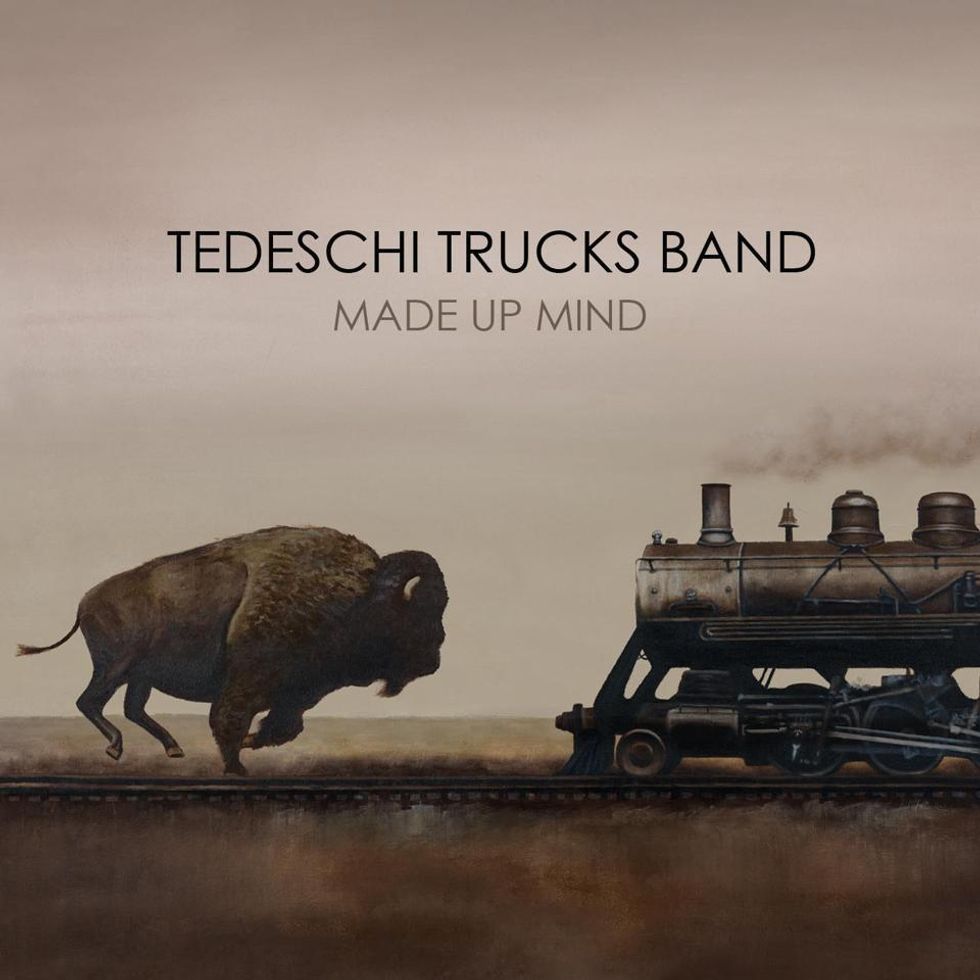 No one flies the flag of rock and soul better than the Tedeschi Trucks band, they are a mesmerising live act and I've had the pleasure of seeing them perform twice. Their new studio album Made Up Mind builds on the buzz created by their live album Everybody's Talkin, it's a set that sees the band stretch themselves musically and lyrically. They have an incredible platform from which to rise, Derek Trucks is a guitarist who combines raw combustion with jazz expression, Susan Tedeschi is an amazing vocalist known for her fire and brimstone vocals she is also capable of capturing tender moments with real softness.
Made Up Mind is a statement of raw soul and funk, some scratching guitar and a cracking snare drum before an ample bass line protrudes and snakes its way around, then those exultant vocals and horns set in on the chorus. Do I Look Worried has a distinctive southern soul feel, channelling that great portrayer of the lost and lonely Dan Penn, the song has a strident defiant tone to it, as usual Derek's solos never impede they just carry each song to another plane. Idle Wind is amazing it sounds like Jethro Tull, acoustic, floating flute lines but with a bluesy feel, has a bit of a Delaney and Bonnie feel. Misunderstood kicks it back up a notch, fierce and flowing with some shakin bass flurries, Susan Tedeschi has this ability to sing with such conviction and intensity. Part of Me has an opening reminiscent of Sam and Dave's Soul Man, it's a joyous tune, some great keyboard work from Kofi Burbridge creating that cruisey relaxed soul groove that they do so well. Derek then comes in over the top with some ecstatic guitar fills. Whiskey Legs is swampy blues, distorted and ragged Susan getting low down and dirty the band keeping it anchored as usual, sounds like it's set in a Louisiana swampland.
Hillbilly's comin at me, won't leave me alone
Derek sounds like he is channelling the great Stevie Ray Vaughan, really torching those notes, bending those strings beyond comprehension. All That I Need has a beautiful rollicking feel, soft and mellowed a really joyous uplifting song, Derek once again excels in adding that flourish to give the song extra meaning, adding the cherry. An amazing album that showcases the glory of soul music, this is a band who have no peer when it comes to exploring the beauties of soul and rock and roll.