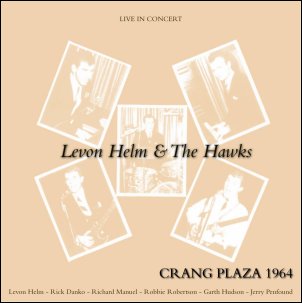 There is a seemingly endless stream of Band bootlegs, the most interesting for me are those that relate to their time as a bar band under the name Levon and The Hawks. It was a time in which the Band honed their craft, steeped deeply in rhythm and blues, in the clubs and dives that formed a vertical arc from frozen Canada to the mild climes of the deep south. There are three bootlegs that I know of that capture their live performances in 1964 and 1965, the sound quality is fairly poor but it gives an indication of how powerful they were as a live band at the time. It also acts as a demonstration of how important Bob Dylan was in leading them on the path to their future careers.
Musically it captures an intensity that revolves around their passion for the blues but also their determination to succeed and their growing frustration at being stuck playing the same dives year after year. In hearing Robbie's Blues you can see how far ahead of the game they were and how tight they were. The rhythm was rock solid Levon played in the pocket with a jazz sensibility and Rick who was yet to develop his syncopated undertones stayed like a limpet at Levon's bass drum. Robbie must have been a sight to see and hear, his wailing bursts and sheer venom are an amazing assault on the ears, and then on top of that we are gifted with a Jimmy Smith inspired flurry from Garth Hudson on organ. Richard Manuel was often though of as only a rhythm player but his style has a strong gospel feel to it on this song. Jerry Penfound who left the band the following year provides the King Curtis style sax solo.
On Hoochey John Blues the Hawks deliver New Orleans low down sleazy blues at it's best with some incredible sax playing from Penfound, ably assisted in the chorus by Garth. The band had a growing interest in modern jazz at the time and this can be seen in the tightness of the rhythm, this was years before rock bands became enamoured with jazz music. Robbie matches fire with the horn section and it's something to discover that he could deliver live what he laid down in a studio setting. Richard gives an amazing rendition of Ray Charles' Georgia, just that soul in that man's voice. Levon was the real rock and roller singer in the Hawks, as the band give a raw rockin version of Chuck Berry's Memphis Tennessee with some nice tom work from Levon in the middle eight. There version of Money is given a funky almost Latin tinged treatment, it's hard to hear the voices on this song as the recording isn't great.
There is also a bootleg floating around from a show the Hawks did in Dallas in June 1965 in which they give a brutal rendition of Muddy Waters' She's 19 Year's Old, Robbie provides this dark midnight guitar sound, like a prowling cat in a dark alley way, sneaking around corners. Garth adds such amazing texture to each song, veering from jazz to gospel to funky blues, and then Robbie comes in with a blistering solo from which Garth rides at the end. At the end of the song there is no wild applause just people talking, I can believe there wasn't a spontaneous eruption of noise after what they just heard! Richard gives a cracking performance on the Bobby Bland classic Turn On Your Lovelight there was a growing hint of what his voice could do. Garth once again erupts with this cascade of notes and then Richard comes in to exalt the band. He had an amazingly soulful voice and he displays it on another Ray Charles chestnut You Don't Know Me, with a deep ache in his soul Richard transforms the song.
Their version of Not Fade Away has that distinct Bo Diddley backbeat, it's hard to tell who is singing the lead I think it's Levon who tended to take the more rock and roll based tunes. Levon is at the mike for a cover of No Particular Place To Go which the hawks give a real dirty blues feel to, Levon cracks up midway through the song and misses a line but the rest of the group don't miss a beat. Robbie's solo has those Berry fills but at a more strident pace, more ragged and distorted. Listening to those early records I was always had the feeling that Robbie was an anxious player always striving to reach that peak, it's probably what made his playing so good on those early pre-Band records. In the mid 60's the Hawks went through a period that they referred to as their jazz period, they were heavily into the work of Cannonball Adderley and his quintet. They do a funky version of The Worksong with Garth in his element, free to experiment and be as expressive as he pleased.