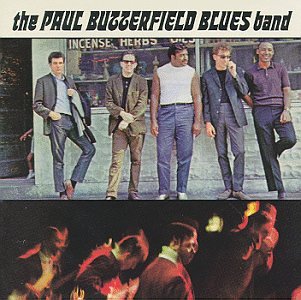 The Paul Butterfield Blues band were a firebrand rhythm and blues act, they had the rawness of an R&B band but they played with a level of sophistication not scene or heard in many R&B groups. Paul Butterfield was a true devotee of the blues, he grew up in Chicago and after a stint playing classical flute he started playing the harmonica in his teens. In the early 60's he hooked up with fellow University of Chicago alumni guitarist Elvin Bishop and the two began to frequent the blues clubs of the Chicago south side. The two became friendly with Howlin Wolf sidemen Sam Lay (drums) and Jerome Arnold (bass), after forming the Paul Butterfield Blues band they took up a residency at a club called Big John's. They built a formidable live reputation and in late 1964 word had reached Elektra Records producer Paul Rothchild who flew to Chicago to sign the band. It was at the instigation of Rothchild that another Chicago guitarist Mike Bloomfield was added to the line-up. Initial recording sessions didn't capture the essence of the band so plans for a live album were made but were eventually shelved. In late 1965 the band went back into the studio for more sessions and from this came an outstanding debut.
From the very first blast of harmonica you hear a band that isn't merely a group of blues copyists, the dynamic of the band is raw and relentless with a notable sense of urgency. Bloomfield was in the nature of someone like Robbie Robertson his playing was punctuated with these wild screaming solos. He was also a master at melodic interpretation, he gave each song a driving pulse. Helping this along was the famed rhythm section of Jerome Arnold and Sam Lay who had cut many a classic at Chess Studios in the late 50's and early 60's. The opening track Born In Chicago reflects the growing sense of violence and futility that was gripping many of America's urban centres, none more so than Chicago.The Elmore James classic Shake Your Money Make is taken at a frantic pace, Bloomfield plays some tense slide guitar on this track. The band slow it down for their cover of Little Walter's Blues With a Feeling, Bloomfield is spellbinding with his fluidity, notes cascading from his guitar. Butterfield not to be outdone shines a light on his hero Little Walter with some wild harp work. Thank You Mr Poobah is an instrumental and features some organ work from Mark Naftalin who joined the band just prior them entering the studio. It sees the band breaking it down into a midnight groove, very relaxed some tones of jazz in the mix. The Muddy Waters chestnut Got My Mojo Workin is then given a workout with Sam Lay doing the vocal duties. The band then get the barnyard blues of Wille Dixon going with Mellow Down Easy which the band deliver with sinister glee. Bloomfield play short stabbing solos, Butterfield blends in with short bursts against Bloomfield wailing tide.
Screamin another instrumental has a nice percussive feel courtesy of Sam Lay who was an amazing drummer, his work on the cymbals incorporating Latin and more syncopated rhythms was ahead of it's time. Mystery Train was a song Butterfield would build his live reputation around, once again it has a dark feel, the train rolling out of the delta in the middle of the night, heading into the darkness of the deep south. Another Junior Parker classic Look Over Yonder's Wall is a powerhouse courtesy of Mike Bloomfield, his intense playing was way ahead of it's time, no wonder he was so revered in the late 60's. Whilst many would see this album as nothing groundbreaking, it was one of the first albums to offer a new interpretation of the blues, ragged and uptempo and with some blistering soloing. I was lucky enough to pick up this album as part of a series of five released as part of the original album series on the Rhino label.