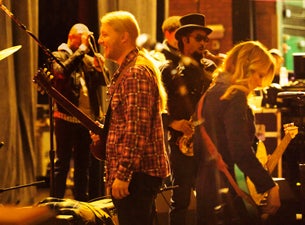 It's great to see The Tedeschi Trucks band back in Australia, I was fortunate enough to catch them in 2011 on their first visit to Australia and was blown away by the intensity of their live show, Susan Tedeschi has few peers when it comes to interpreting a song, her sharp visceral soul delivery matches perfectly with her husband, guitarist Derek Trucks who inventiveness and scope as a guitar player seemingly knows no bounds.
This concert is already the front runner for the Nighthawking gig of the year! It was an amazing concert, this is a band that continues to excel and subtly change it's dynamics. The band stuck to a setlist that featured the best of their two albums to date, although notable omissions were there classic cover of Everybody's Talkin and Darlin Be Home Soon which featured on their second album. The band opened their set with Don't Let Me Slide from their debut album Revelator, Tedeschi's expressive vocals were a highlight as they were throughout the show. Midnight in Harlem is a classic and features some stirling keyboard work from Kofi Burbridge, Derek Trucks gives an amazing solo full of soaring slide guitar. To me on this tour Derek seems more restrained, his on stage demeanour was different, he played mostly with his back to the audience not in any kind of indulgent way but he seemed content to stay in the background.
The band then tore into a boisterous version of Rollin and Tumblin with some fine solo work from Tedeschi, she also shows that she can belt out the blues with the best of them. The smouldering That Did It also from their live album was an indication of how tight this band sounds. Nobody's Free gave the band some room to move in the intro with some free jazz explorations, Derek is an inventive guitarist with a passion for jazz and an inclination to push the boundaries. They also do a barnstorming version of Uptight the Stevie Wonder chestnut. With a 13 piece band and two drummers it was such a full and compact sound, that is what I love about hearing this band live, it's so tight and large sounding. You add to that the sublime voice of Susan Tedeschi who can sing an aching soul tune, shout a blues tune and deliver it all with gospel fervour.