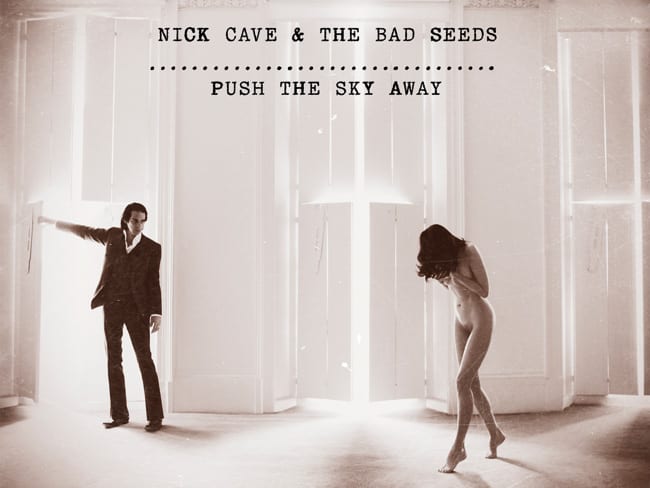 Push Away The Sky is the new album from Nick Cave and The Bad Seeds, it's the 15th studio album from the collective. I must confess I've never up until now been a fan of Nick Cave and The Bad Seeds or any other incarnation that he has fronted, I found his music dark and disturbing and I never seemed to be in the headspace where I could sit back and appreciate his work for what it is. Cave embraces language and twists it and moulds into these intense vignettes that are dark but that is what captures you as the listener. He is an impeccable storyteller, like all great songwriters his inspiration comes from the shadows, loose narratives and inspired cultural references shape each song. Cave's previous albums have displayed more musical muscle, more guitar dominated but Push The Sky Away has a softer edge, the music is more dense and atmospheric possibly as a result of Cave's songwriting partnership with Warren Ellis.
The album starts on a meditative note We No Who U R has an undercurrent of electronic pulses Cave is restrained and melancholy in his vocal, he taps into darkness and despair with such haunting beauty,
The trees will burn with blackened hands,
We returned with the light of the evening,
The trees will burn with blackened hands
No where to rest, no where to land.
Wide Lovely Eyes continues with the minimalist instrumentation of the opening track, Caves takes a more literary approach with his songwriting, it's a song with a lush descriptive narrative. Ellis seems to have a knack of creating a setting that allows Cave to further develop his songwriting in more depth with a grwoing focus on a loose narrative.
You wave at the sky with wide lovely eyes
Waves and waves of love go by
And through the garden with your secret key
Down the tunnel that leads to the sea
Waters Edge signals a more ominous darker turn, Ellis paints a more lush canvas with a throbbing bass lines and electronic wails. It has a very gothic feel to it, there is a sense of foreboding and mystery, you can't be quite sure what is going to happen to those city girls as the local boys gather around watching and contemplating. Jubilee Street to me is the highlight of the album, it builds with voluminous swells and then crashes down upon you as guitars and voices add to the dense frightening tumult that is occuring.
On Jubilee Street there was a girl named Bee
She had a history but no past,
When they shut her down the Russians moved in.
Now I'm scared to even walk on past.
The murderous hand of fate is never far away, Cave is the master of building tension,
The problem was she had a little black book
and my name was written on every page
Well a girl's gotta make end meet
Even on Jubilee Street
Cave captures love with all it's despondency and maddening emotions, it's always cloaked in something mysterious and beautiful but with a hint of something nasty lying under the surface. Mermaids has the classic line.
She was a catch
We were a match
I was the match that would fire up her snatch
There was a catch
I was no match
I was fired from her crutch
Now I sit around and watch.
Finishing Jubilee Street takes Cave back to familiar territory, the haunting sound is replaced by percussive undertones, there is plenty of space for Cave to return to the twisted landscape of Jubille Street where the lines between reality and insanity are blurred. Higgs Boson Blues is another triumph for Cave as he takes hold of some treasured cultural references and warps them and bends them into something that is incredibly vivid and visual, in some ways invoking the essence of what the nighthawking as a word means. It has an ethereal presence ebbing and flowing, cascading rhythms and ghostly backing vocals. Cave conjures up the greatest myth of music, the legend of the crossroads and Robert Johnson,
Black road long, and I drove and drove
I came upon a crossroad,
The night was hot and black
I see Robert Johnson
With a ten dollar guitar strapped to his back
Looking for a tune.
Well here comes Lucifer
With his canon law
And a hundred black babies running for his genocidal jaw
He got the real killer groove
Robert Johnson and the devil man
Don't know who's gonna rip off who
Only Cave can create such a dynamic visual narrative that is a pivotal part of the story of the blues, it's an essential element of the fabric of the blues, that story. Based on this album I'm going to enjoy delving into the back catalogue of Nick Cave and The Bad Seeds.