Last week the legendary Fats Domino celebrated his 85th birthday, his musical legacy is immense and his importance to the development of rock and roll cannot be underestimated. His music traversed the varieties of New Orleans music and added in touches of R&B and country music.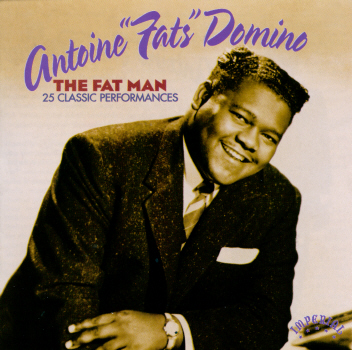 There is always a debate over who made the first rock and roll record, rock and roll is a sound that developed and mutated over a fairly lengthy period. It was constantly refined and added to, each city had it's own distinct rhythm and bands passing through might hear something from a local band and add it to their sound. There are a lot of records that came out in the late 40's and early 50's that point to a change, something new is happening and one of the records that signified that change was Fats Domino's The Fat Man. It was his first single and originally came out as a B Side to Detroit City Blues, it was recorded in December 1949 in New Orleans at Cosimo Matassa's J&M studio. It was released on Lew Chudd's Imperial label, Chudd had asked A&R legend Dave Bartholomew to recommend some local New Orleans talent for his label, and Fats Domino was signed after Chudd had seen him perform in a club.
The Fat Man is a variation of the New Orleans tune Junker Blues, it's a style that can also be heard on Lloyd Price's Lawdy Miss Clawdy. The song has a distinctive backbeat which was provided by the legendary drummer Earl Palmer, it also displays Domino's rolling piano style. It was a style that Domino would refine and capitalise on from 1955 until 1962 when he began to fade from the charts. The New Orleans sound has a unique place in rock and roll, it added a pervasive beat and horn arrangements that weren't normally featured in other R&B and early rock and roll records. The beat was not straight out 4/4 it had syncopations and twists and variations that other rock and roll records didn't have.
They call, they call me the fat man
Cause I weigh 200 pounds
All the girls they love me
Cause I know my way around