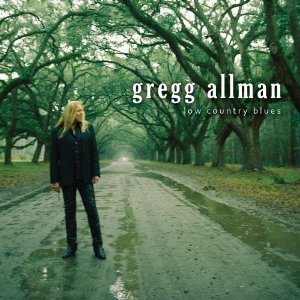 It's taken me a while to come across this one, it was released early last year I may have heard some of it on Brian Wise' Off The Record show but reading Allman's recent autobiography piqued my interest. Low Country Blues is an impressive album in scope, style and delivery, T- Bone Burnett is a producer for the ages, his focus on authenticity and the raw feeling of blues and country music comes across in every album he produces. He has a sympathy and understanding for this type of music that few producers possess. Allman doesn't let Burnett down with a performance that is raw and raucous, his voice may not have the throaty power of his heyday but he uses his voice in a way that still resonates with emotion and the essence of blues singing.
Low Country blues is very diverse, a collection of blues songs that some listeners may not be familiar with, the opening track Floating Bridge is a Sleepy John Estes song, Burnett exposes Allman's expressive vocals and gently builds the song with piano flourishes and his low rumbling guitar work. Little By Little has that familiar Allman hammond organ opening that sounds like Jimmy Smith, this one comes from the Junior Wells catalogue and has a real Chicago blues feel. Devil Got My Woman is country blues at it's most intense before the song opens up with a rollicking shuffle and some blistering guitar work. The album has some great guest contributions from the likes of Doyle Bramhall and Dr John on piano who adds a nice New Orleans feel. The Muddy Waters classic I Can't Be Satisfied is given the jungle treatment with Allman giving an aggressive performance, Burnett supplies some driven slide guitar. The album then changes direction with a cover of Bobby Blue Bland's Blind Man with Allman doing a great job of getting part of that famous Bland gargle. Just Another Rider is an Allman/Warren Haynes tune that sounds like it was produced by Willie Mitchell and recorded at Hi Studios in Memphis, it's got that flat drum sound and Mitchell style horns.
Please Accept My Love goes back to the rhythm and blues sounds of the mid 50's with this B.B King cover, Tears Tears Tears has an after hours lounge feel to it with Allman's keyboard playing given more of a dominant setting, then the big band horns kick in. Checking on My Baby heads back to Chicago of the late 50's with this gritty and funky take on the great Otis Rush chestnut. This is an album that is diverse but it melds together beautifully, from the low fi production of Burnett to the surprisingly strong vocal performances of Allman this is a great reminder of the true beauty of the blues.