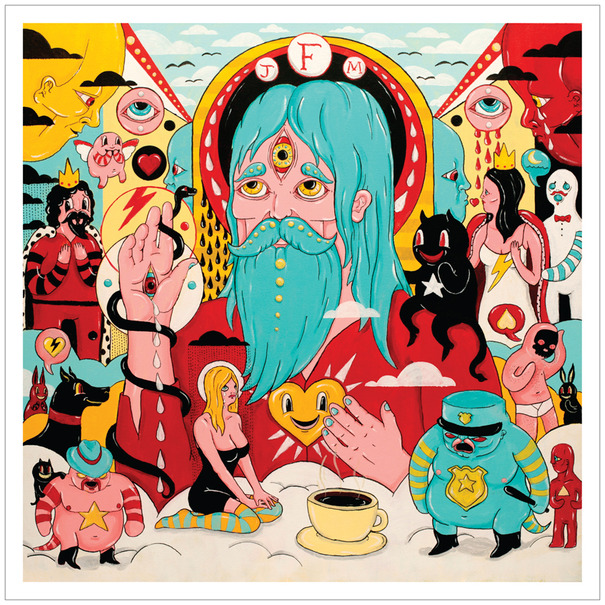 Fear Fun is the eighth full length solo release for Josh Tillman and the first under the moniker Father John Misty. Tillman may be familiar to some, he was drummer in the Fleet Foxes for four years, finishing up with the group at the end of their Far East tour in early 2012.
Fear Fun is an absorbing record, it's almost like a novel with dense layers of irony and humour and rich poetic lyrics. Like a lot of the music I'm currently listening too what stands out about this album is that there is never any feeling of repetition in the songs. You could call this a folk album but these categories fall short, this is music that defies category because it has so many intrinsic elements. Fun Times in Babylon has a Fleet Foxes style, heavily percussive with penetrating atmospheric sounds. Tillman offers a unique, beautifully warped view in each of his songs, there isn't anything personally reflective about the songs, each song is almost like a short story. He is the ultimate outsider with an acerbic critique, on I'm Writing a Novel he sings of actresses wanting to be noticed in West Hollywood and people pretending not to notice them! If there is a thread to these songs it's location based with references to Laurel Canyon and Hollywood.
Heidegger and Sartre, drinking poppy tea,
I could've sworn last night I passed out in my van and now these guys are pouring one for me,
I'll never leave the Canyon cause I'm surrounded on all sides,
By people writing novels and living on amusement rides.
Hollywood Forever Cemetery Sings is more loose and ragged musically displaying Tillman's desire for a less rigid musical approach. This Is Sally Hatchet has a psychedelic feel once again displaying Tillman's ability to write lyrics in way that marries the beauty of his words with these wonderfully twisted stories.
Could he rattle by the way that she empties a few clips out
Do I have a choice now
Point that thing away from me
Lady.
Everyman Needs A Companion is the most reflective song on the album, it brings out this ideal that we all need to cling to something, whether it be human comfort or a philosophical or religious idea. Fear Fun should act as an affirmation that good creative music is still being made, and that the wheels are turning more in favour of the artist. The traditional models of music are now redundant, the artist now has the ability to cut out the middle man and connect directly with his/her audience.