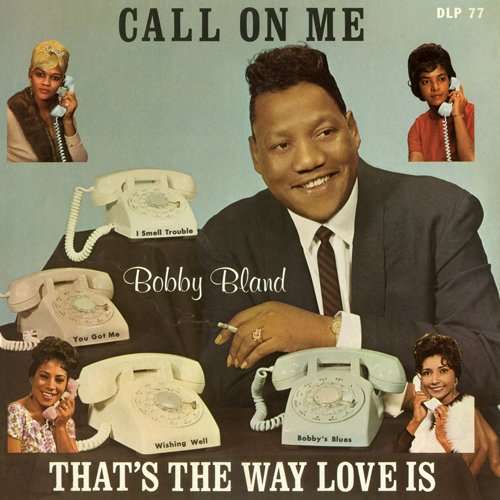 Bobby 'Blue' Bland recorded some amazing albums in the early 60's one of which Two Steps From The Blues I have already reviewed in the this blog. His albums showcased an expanse of styles that few R&B singers could match at that time, he was a more than capable old fashioned blues shouter with his gravelly voice, he was also adept at handling ballads that required a more mellow interpretation. His band leader Joe Scott is one of the most underrated arrangers in R&B music, he created a musical context for Bland that was never dull or complacent, at his disposal he had a great group of musicians all part of Blands' road group who were tight and could find the groove in any situation.
Call On Me was released in 1963 and reached U.S #11 on the Billboard album chart a rare feat for an R&B singer and a testament to his popularity during that period, he still maintained his traditional R&B fanbase but had found a wider audience amongst white teenagers who were becoming more and more enamoured with R&B and soul music. As with his previous albums the session dates for the record covered the start of 1962 through until May 1963 with two songs from the late 50's also being included. The main session from which four tracks were cut took place in Hollywood CA in February 1963. The title track Call On Me has a latin feel to it and there is some comparison with some of songs Sam Cooke was recording at the time, the main difference being the prominence of the horn section in Bobby Bland's recordings. The Feeling is Gone is classic R&B with Wayne Bennett supply those frenetic guitar runs that were very similar to that of the great T Bone Walker. It has such a strong jazz groove with John 'Jabo' Starks laying that in the pocket groove with his steady work on the ride cymbal. There weren't too many singers who could convey the emotion of love gone wrong like Bobby Bland. Honky Tonk continues the R&B groove with the horn section creating an almost big band style sound over the top of Bobby's vocals. The song feels like a testament to life on the road for Bobby and his band at the time, he sings "I'm gonna play the low class joints, and I'm gonna play the high class joints". Wishing Well comes from sessions recorded in 1959 and is from a period when Bland was really starting to find his voice, Joe Scott was also beginning to introduce the musical style that would carry Bland's music for the next decade. Clarence Holliman plays guitar on the track and fires off a brilliant solo, it sounds like he is bending the strings until they are about to capitulate.
Share Your Love With Me has a Ray Charles feel to it, there is the C&W feel with the dominant string lines and the female backing vocal. It was recorded in May of 1963 in Nashville which probably explains the C&W sound, a style that many R&B singers were experimenting with, think Soloman Burke from around the same period. Share Your Love With Me was released as a single the following year and reached #43 on the pop chart. That's The Way Love is was the A side single with Call Me as the B Side, it's a classic tune very unique for an R&B song, it's jagged beat with a slight Latin feel really highlighted by the work of drummer Starks who still makes your feet tap has he supplies little taps of the snare and thuds on the toms. It's reflective lyrics signal a resigned approach to relationships and their many and varied ups and downs. When released as single it topped the R&B charts and reached #33 pop, but the B Side was also attracting considerable airplay and the 45 was eventually flipped with Call Me reaching #5 on the R&B chart and reaching #22 pop, the single eventually sold a million copies. Care For Me was recorded at the same session as your Share Your Love With Me and has a similar backing, a mid tempo ballad with prominent strings and some melodic sax work during the verses in a call and response trade off with the strings. Once again Bland delivers a measured vocal performance, his ability convey emotion and conviction in anything he recorded has been criminally overlooked in the history of R&B. No Sweeter Girls reverts to the familiar R&B style, the snap snare groove from Jabo Starks, the hoarse vocals of Bland and the pulsating horn section, with a clucking sax solo. Ain't It a Good Thing has that late night lounge feel with Bobby soaring in the chorus, Wayne Bennett supplying those fluid runs and of course those driving horns from Joe Scott.
Call on Me was an influential album, The Band would record Share Your Love With Me on their Moondog Matinee album, but they recorded an early version of Honky Tonk in 1964, it was also a staple of their live act at the time with Richard Manuel doing a more than credible effort of duplicating that powerful vocal.