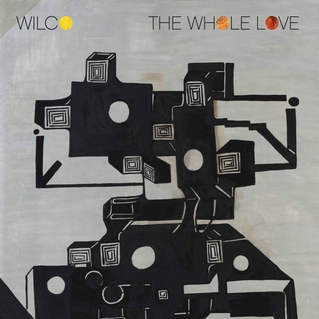 It's inexplicable as to why this album is the first Wilco record to grace my collection, it's their eighth studio album and whilst I can't compare it to their previous releases it's a record that deeply reflects the spirit of independence and craftsmanship. There is nothing generic about this album, it's hybrid of sounds meld together perfectly there is nothing out of sync as Wilco mine the musical depths from lo fi 1960's garage sounds to the alternative country sounds pioneered by The Band in the late 1960's. Readers of this blog will be well aware of my love for the aforementioned group and there are a few songs on this album that have a Band like feel to them.
The opening track Art of Almost has a frenetic sonic opening, before being bathed in strings creating a sound from something you would hear in a science fiction film. The jagged drumming creates space for the bass to create rhythmic lines that vocalist Jeff Tweedy is able to ride. Not for the first time on the album the band then change tack with I Might which sounds like a lo fi garage track from the 1960's with a farfisa like organ break in the middle, something you might have heard Augie Meyers play with The Sir Douglas Quintet. Also present is a fuzztone style bass propelling along with distorted guitars. Dawned on Me is soul with a slightly bent shape, stretched out guitars it's a kind of joyous ode to realisation.
Changes of pace are the core of this record and it's one of it's most endearing features, on Black Moon we have a seductive alt country style tune with tender picking in a more lush setting. Capitol City sounds like a New Orleans jazz tune, One Sunday Morning has that delicate sense of nostalgia with a relaxed folk feel, soft piano and acoustic guitar. Like The Band Wilco tell their stories from the shadows, there is a sense of reflection, lovelorn and in some cases pessimistic but never exactly direct, but it's that sense of mystery that is so important to the album. I think the great albums are ones that have a sense of mystery but still connect with the listener, each narrative takes shape against a different backdrop but never does a disconnection occur and this seems to be the hardest thing to achieve. You can always tell when it doesn't quite work with groups who try to do too much and there isn't the universal thread to hold it together, Wilco suffice to say don't suffer from this. A truly remarkable album.