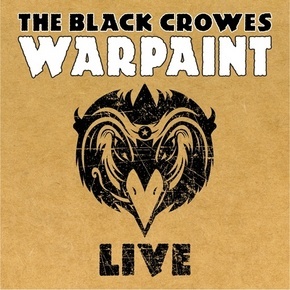 Last year the Black Crowes released a double album Croweology, that contains unplugged versions of some of their back catalogue. One album that is not represented is the Warpaint album, which marked their re-emergence after a lengthy hiatus, it's an album that shakes off any idea that they were merely a shake and boogie styled band. Warpaint has substance, musically it saw the band move away from a straight rock and soul influenced band and saw them embrace more complex sounds. If your looking for musical comparisons think of The Band and The Grateful Dead, the album was recorded in Woodstock and has the same natural and spontaneous sound that The Band were able to achieve.
Goodbye Daughters of the Revolution which opens the record introduces that loose and ragged feel that permeates through the record. The group shows it's considerable power on
Walk Believer Walk, demonstrating the relaxed interplay between guitarists Rich Robinson and Luther Dickinson. It was the first album Dickinson played on, having been recruited from the North Mississippi All Stars. The influence of The Band can be heard on the lilting Oh Josephine which has that same country soul feel that The Band were so admired for. Chris Robinson is in fine voice throughout this record, employing his raspy soul styled vocals to impressive effect. The acoustic side of the Black Crowes also comes to the for on Warpaint and it's something that is not present on their earlier recordings. It's employed to great effect on songs like Locust Street and the old time styled Whoa Mule and There's Gold in Them Hills. It's a shame I haven't as yet got the chance to see these guys live, hopefully they will return from their hiatus.