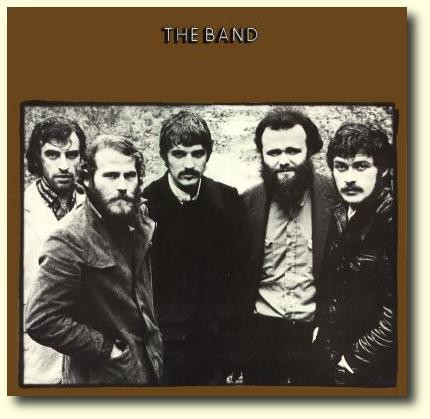 Most music lovers enjoy compiling lists of albums that they consider must haves in any record/cd collection, so I thought I would compile on a fairly regular basis albums that have meant a lot to me in the years I have been buying records. My desert island sounds represent what I feel are the classic albums that I have heard so far. First off is the second self titled album from The Band which is often referred to as the Brown album becuase of its sleeve.
What is so special about this album is that it is a hybrid of traditonal American sounds but combined together the way The Band do on the album it doesn't sound idiosyncratic or forced, its an amazing natural sound that is produced. For it's time the album was the antithesis of what was popular at the time, psychedelia and a heavier blues sound had gained considerable popularity in America. The Band represented a desire to return to a more simple time both musically and lyrically. The theme of the album is the history of an old time America and the band colour this in a mix of blues, country and gospel with raspy horns and tight harmonies added in for good measure. What was also unique was the fact that The Band were able to capitalise on having three distinct vocalists, drummer Levon Helm with his Arkansas growl, Keyboard/drummer Richard Manuel with his mourning soulful voice and bassist Rick Danko who seemed to move effortlessly between soul and country.
The stand out track is The Night They Drove Old Dixie down, written by guitarist Robbie Robertson as a tribute to the old south that had captured his imagination as a youngster in Toronto. Sung by Levon it's a heartfelt story of the Civil War and an ode to the spirit of the deep south. Up on Cripple Creek switches to a funky country sound with a hypnotic bass line and jaw harp sound created by keyboard player Garth Hudson using a clavinet through a wah wah pedal. Once again a story song of a traveller (maybe a musician) on the road and his misadventures with Bessie. The album finishes with one of The Bands greatest songs King Harvest(Has Surely Come) sung with desperation and passion by Manuel it's the story of a farmer having to deal with the tragedies of life on the land.
The Band proved to be a big commercial success and a critical one as well, it was also a huge influence on other recording artists who began to turn back in time for musical and lyrical inspiration. Following the release of that album we heard records like American Beauty from The Grateful Dead with an emphasis on more traditional American musical forms.